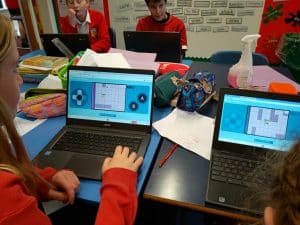 Do you want to give your students the opportunity to learn coding from real app and game developers?
Do you want to spark their creativity and passion for creating their own apps and games?
If so, you should book one of our Code Created Coding Workshops, now available for Autumn Term 2023!
Code Created is an initiative from Chaos Created (an app and games development studio) that offers coding workshops for primary and secondary schools. Our workshops cover the basics of coding, using visual programming tools that are easy to use and fun to learn. We also have more advanced workshops for older students that teach coding using professional tools used by real developers.
One of our most popular workshops is our Coding Games Workshop, where students learn how to make their own arcade-style games and "snack" games. These are simple but addictive games that can be played on any device. Students will learn how to use variables, loops, conditionals, events, sprites, animations, sounds, collisions, scoring and more. They will also be able to share their games with friends and family, and play them from home.
But that's not all! Code Created also offers other workshops such as:
All of these workshops are designed to be fun, interactive and educational and are delivered in your classroom!
We offer flexible booking options, and we can tailor our workshops to your year groups. You can book a workshop for a single class, or multiple groups, and you can also choose between half-day or full-day sessions depending on your schedule and budget.
But hurry up! Our Coding Workshops are in high demand, and we are now taking bookings for Summer Term 2023. Don't miss this opportunity to give your pupils an unforgettable learning experience that will spark their interest in coding and game development.
Read more about our workshops here, and you can book a workshop here.
Got a question? Call us on 0845 299 3874, or chat to us here.