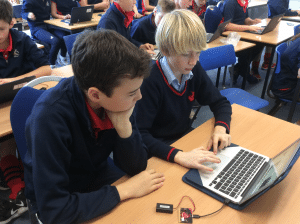 Last month we visited Thomas's Clapham to run some BBC micro:bit Coding Workshops with their two Year 8 classes as part of their STEAM (Science, Technology, Engineering, Art, and Maths) week.
Each pupil in the class had been given a BBC micro:bit last year, when they were in Year 7, as part of the national rollout cliquez pour plus d'infos. They had already learnt some of the basics, so it was a fun opportunity for us to come in and create some fun and exciting projects with the classes, encouraging them to take coding further.
We ran through a quick refresher, using the Block Editor, reminding pupils how to code some basic apps using the different input types of the micro:bits, and refreshed their memories on how to test their apps, compile their apps, and run them on their micro:bits.
We then spent an hour or so running a variety of projects. We turned their micro:bits into dice using some simple programming, and then we wrote some code transforming their micro:bits into a makeshift Fitbit-style step counter, with working step goals.
Nearer the end of the session, we moved from the Block Editor into coding with Python, creating a Magic 8-ball fortune telling app, demonstrating to the pupils the transition between drag-and-drop coding and a "real" programming language.
All of the pupils were so enthusiastic, and it was great to be a part of their STEAM week, alongside the other amazing workshops that were taking place in the school. We'll be returning to the school next year to follow-up with our Coding Games Workshop.
For more information about our workshops, please click here.