Emma Bottomley
Herne Hill School, London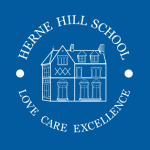 Herne Hill School, London
I teach at a school in south London for children ranging from 2-7. As a school we are keen to develop the children's coding skills and have been working on involving the parents. I contacted Ali to discuss how to run a workshop for our Year 2 children who are fairly new to coding. He was very helpful describing how the day would run and how they would be tailored to a group of KS1 children.
We ran a half day workshop for each class of approximately 19 children where they learnt how to debug a programme, make changes to it and then trial some of the games. By the end of the session the children could describe how they looked for bugs in a simple programme and suggest how they might be able to fix it. I am sure it has inspired many of the children to continue developing their coding skills.
The workshop was pitched brilliantly and Ali had all the children engaged in the session. They had a fantastic time and have since been playing Pancake Panic at home! Thanks again and we hope to have Chaos Created back again next year.